Just a short drive from the sandy white beaches and sparkling blue ocean of Myrtle Beach is the alluring gem, Brookgreen Gardens. Brookgreen Gardens is a unique blend of pristine art and mesmerizing nature. Hours can be spent roaming through the lush botanical gardens, admiring the flowers, fountains, and beautiful sculptures. There are exhibitions by world-famous artists, tours, history, and even a Lowcountry Zoo filled with a variety of animals native to the Lowcountry. These beautiful gardens will be shining extra bright this summer as the internationally renowned artist Bruce Munro takes up residency with his large-scale light sculptures.
Bruce Munro is a British artist known for his large-scale, light-based installations. His inspiration for these profound displays comes from his interest in shared human experience, which is illustrated through the magical glow of interconnected globes. Last year, his installation Field of Light at Sensorio displayed in the wine country of Northern California was not only his largest installation to date but was named "Best of 2019: Top 10 Amazing Art Installations That Defined the Past Year" by My Modern Met. He's also caught the eye of The New York Times, The Los Angeles Times, ART Critique, Entertainment Today, and other various news outlets.
Munro's installation Southern Light at Brookgreen Gardens will feature seven works of art in light and mixed media, with each of the pieces specifically designed with the natural garden room where they will be displayed in mind. There will be tens of thousands of components used to create these large-scale magical illuminated installations. According to Brookgreen Gardens, upon his first visit to Brookgreen, Munro stated, "My site visit reinforced the notion of a garden being made up from a series of interconnected outside rooms. It also left me with the impression that the 'garden rooms,' populated by figurative sculptures, were surrounded by an untamed landscape. It's a magical place with an edge of the unknown!"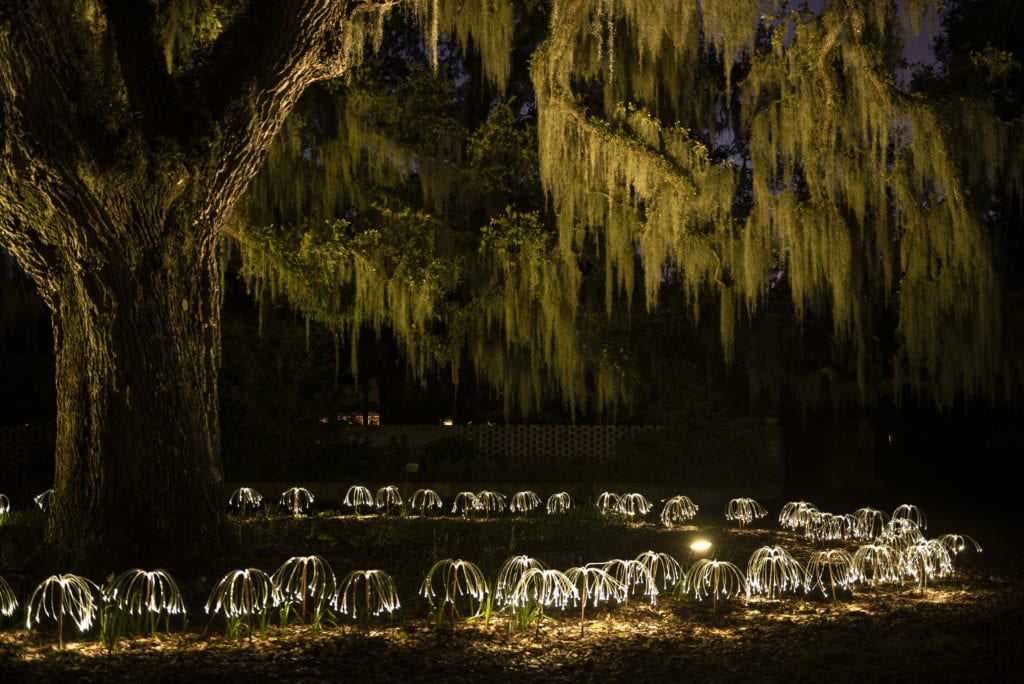 The exhibit will be at Brookgreen Gardens from May 1st through September 12th, 2020. Ticket prices vary depending on if you're a member and can be purchased online on their website or on the grounds of the gardens. Brittain Resorts & Hotels is proud to be the main sponsor of this unique exhibition. We're not only happy to support a local business but excited to be a part of bringing nationally acclaimed artists to the Myrtle Beach area.
Make plans this summer to visit Brookgreen Gardens and immerse yourself in the soft glow of Bruce Munro's Southern Light installation. Check out our resorts for current deals on oceanfront rooms. This is sure to be one magical experience in Myrtle Beach that you won't want to miss!