At the end of the season, Long Bay Resort was closed down for renovations, and it is set to open in the spring with a new look and new name, Grande Cayman Resort. With revamping the entire resort, all of the furnishings, appliances, etc. had to be removed. Rather than just sending these items (most of which were still in good shape) to the landfill or scrap yard, Brittain Resorts teamed up with the local Habitat for Humanity ReStore in order to repurpose these items in support of the organization's mission.
The mission of Habitat for Humanity is to eliminate substandard housing in Horry County, South Carolina by establishing partnerships to build simple, decent, affordable housing and communities together with people in need. In Horry County, the organization is building its 150th home since its start in 1990. They currently have more than 20 families consisting of over 30 children working to build and buy their first new affordable home.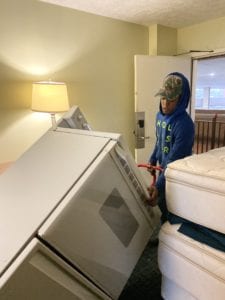 For three weeks, seven Habitat for Humanity affiliates sent anywhere from 4-8 trucks, Monday through Wednesday to collect donations from the site at Long Bay Resort. According to Habitat for Humanity of Horry County Director of Operations, Erin Walters, more than 5,000 units were collected generating an estimate exceeding $7,000 per each affiliate and resulting in approximately $50,000 in revenue. Walters stated, "This revenue will be used to fund the building of simple, decent affordable housing throughout the Counties that participated. The ReStore's Mission in all of the Counties is to recycle, reuse and repurpose gently used construction materials and home goods. Not only was the mission of building affordable homes supported, but thousands of pounds of trash were diverted from area landfills."
Walters went on to say, "we want to sincerely thank Brittain Resorts and entire staff at Long Bay Resort for including us in the renovation and the generous donation." Affiliates benefitting from the donation are:
Habitat for Humanity of Horry County
Habitat for Humanity of Georgetown County
Habitat for Humanity of Brunswick County
Habitat for Humanity of Berkley County
Habitat for Humanity of Darlington County (Hartsville)
Habitat for Humanity of Marion County
Central South Carolina Habitat for Humanity (Columbia)
Brittain Resorts is pleased to be able to assist the Habitat for Humanity organization in its endeavors to build affordable housing while being good stewards of the environment as well. In addition to commending Habitat for Humanity for their hard work in helping area people in need, we commend our staff as well for all their hard work in removing the items for the project. Click here for more information about Habitat for Humanity of Horry County or how you can help.